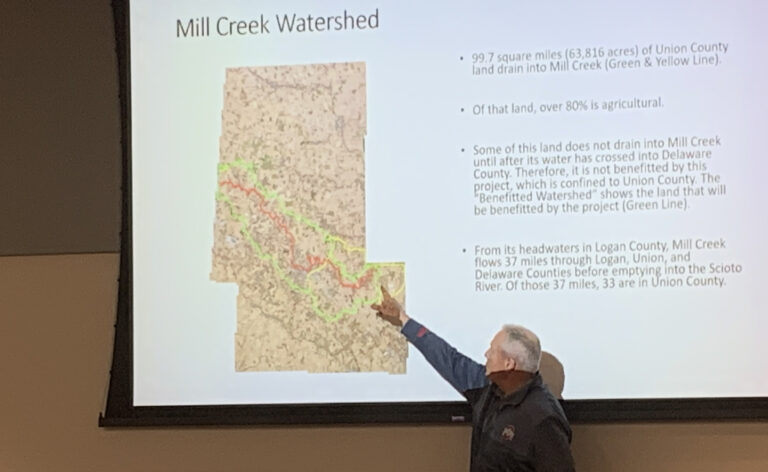 Union County officials spoke to residents during the first viewing of the Mill Creek logjam project last week. The county held three separate sessions to relay information about the large-scale cleanout project, which affects nearly 12,000 parcels across Liberty, Taylor, Paris, Dover and Millcreek townships. Above: Project Engineer Dean Otworth outlines the creek (in red) and the affected parcels (in yellow and green).
Community shows interest in Mill Creek logjam fix
By Michael Williamson, Richwood Gazette
The first in a series of official steps to tackle the Mill Creek logjam project concluded this week, paving the way for an approval from Union County.
On Wednesday, officials from the Union County Engineer's Office and the county Soil and Water Conservation District (SWCD) were on hand at the county building at 940 London Ave. for the viewing of the project scope.
The county held three separate, hour-long sessions for residents to get project information and ask questions.
Viewing the logjam, done through the use of drone footage, is the first step in a set of requirements from the state for a cleanout project.
Dea…
Read this entire article as it appeared in print in our eEdition