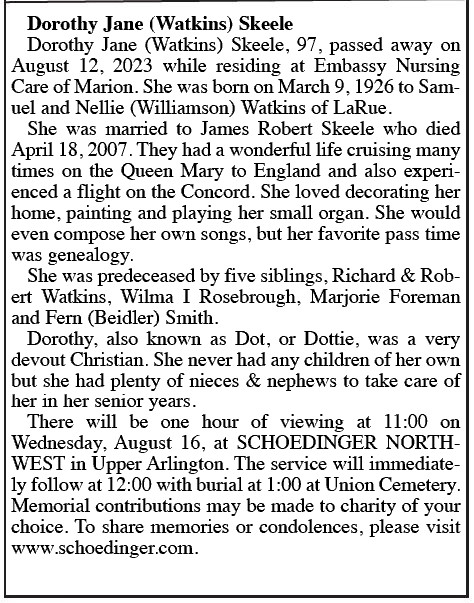 Dorothy Jane (Watkins) Skeele
Dorothy Jane (Watkins) Skeele, 97, passed away on August 12, 2023 while residing at Embassy Nursing Care of Marion. She was born on March 9, 1926 to Samuel and Nellie (Williamson) Watkins of LaRue.
She was married to James Robert Skeele who died April 18, 2007. They had a wonderful life cruising many times on the Queen Mary to England and also experienced a flight on the Concord. She loved decorating her home, painting and playing her small organ. She would even compose her own songs, but her favorite pass time was genealogy.
She was predeceased by five siblings, Richard & Robert Watkins, Wilma I Rosebrough, Marjorie Foreman and Fern (Beidler) Smith.
Dorothy, also known as Dot, or Dottie, was a very …
Read this entire article as it appeared in print in our eEdition