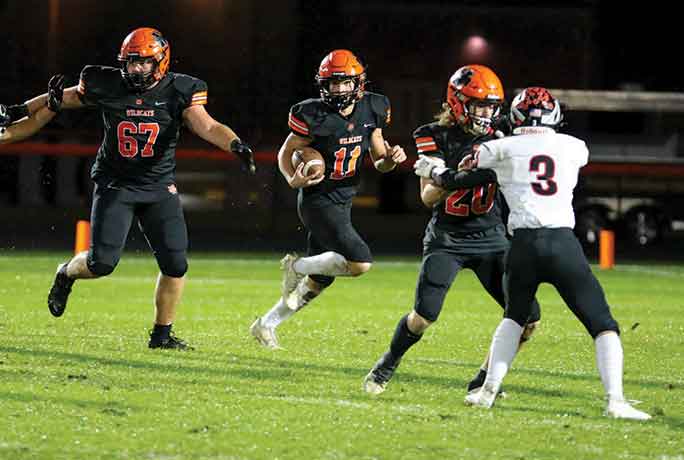 North Union's Nolan Draper (11) looks for an open hole while Rylan Keever (67) and Caden Potts (20) block upfront. Draper and Keever were awarded First-Team All-District honors. (Photo submitted)
North Union gridiron players awarded AP All-District honors for 2023 season
By Bob Putman,
Richwood Gazette
North Union was well represented as The Associated Press announced its Central District football teams for 2023.
North Union had three first-team selections in Division V in seniors Rylan Keever, Nolan Draper and Carter Skaggs.
Draper played the dual position of defensive back and running back for the Wildcats (4-6).
He had five interceptions, including one for a touchdown, and scored another defensive touchdown on a fumble return. He totaled 416 yards rushing, 270 yards receiving and eight touchdowns.
Keever graded out 90% blocking and did not allow a sack in 10 games on the offensive line.
Skaggs, who also was North Union's quarterback, averaged 38.9 yards per punt, including a 60-yard boot to earn first team. He passed for 1,166 yards.
Junior Tyler Krebehenne and senior Cameron Osborne were named to the second-team defensive squad, while seniors Landon Converse, Henry Hayward and Caden Potts were special/honorable mention selections.
North Union's Carter Skaggs (right) rolls out during a regular season home game while Henry Hayward (3) tries to protect his quarterback. Skaggs earned a First-Team All-District selection for Division V and Hayward was awarded a special/honorable mention award. (Photo submitted)