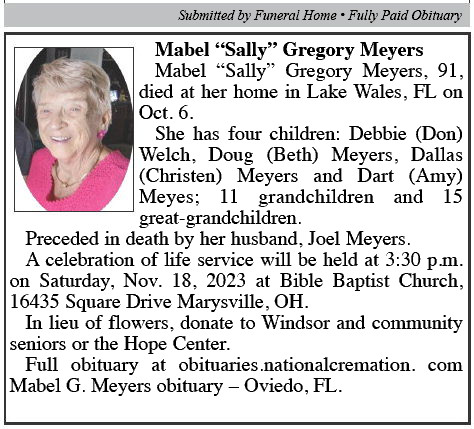 Mabel "Sally" Gregory Meyers
Submitted by Funeral Home • Fully Paid Obituary
Mabel "Sally" Gregory Meyers, 91, died at her home in Lake Wales, FL on Oct. 6.
She has four children: Debbie (Don) Welch, Doug (Beth) Meyers, Dallas (Christen) Meyers and Dart (Amy) Meyes; 11 grandchildren and 15 great-grandchildren.
Preceded in death by her husband, Joel Meyers.
A celebration of life service will be held at 3:30 p.m. on Saturday, Nov. 18, 2023 at Bible Baptist Church, 16435 Square Drive Marysville, OH.
In lieu of flowers, donate to Windsor and community seniors or the Hope Center.
Full obituary at obituaries.nationalcremation. com Mabel G. Meyers obituary – Ovie…
Read this entire article as it appeared in print in our eEdition