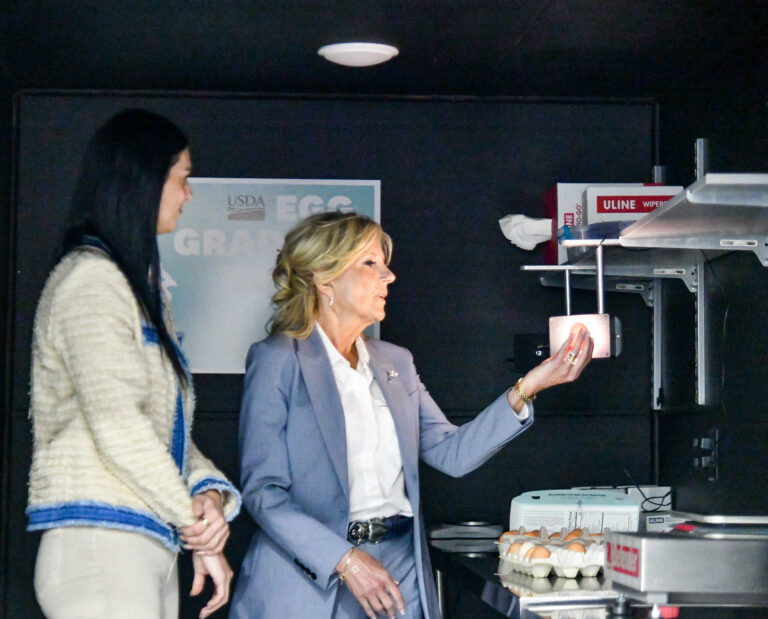 First Lady Dr. Jill toured Outward Farms in Raymond last week as part of the American Egg Board's World Egg Day. Above, Sandra Lausecker, president and CEO of Outward Farms, left, shows Biden around the candling booth where inspectors use light to spot-check and verify the quality of the eggs. The 100% cage-free farm houses about 82,000 hens and can process nearly 70,000 eggs per day. (Gazette photo by Aleksei Pavloff)
First Lady tours Raymond egg operation
By Mac Cordell, Marysville J-T Reporter
Dr. Jill Biden spent a portion of World Egg Day at a Union County egg farm.
The First Lady spent last Friday touring Outward Farms, a three-generation family egg farm in the Raymond area. Biden said it was "a pleasure being here on World Egg Day."
During the visit, Biden met with Sandra Lausecker, president, CEO and founder of Outward Farms.
Lausecker told the First Lady she had been at last year's Easter Egg Roll on the White House lawn. She said it was nice to see her again.
Lausecker said she was grateful to Biden for "her generous giving of time to visit our family farm."
"It is s…
Read this entire article as it appeared in print in our eEdition