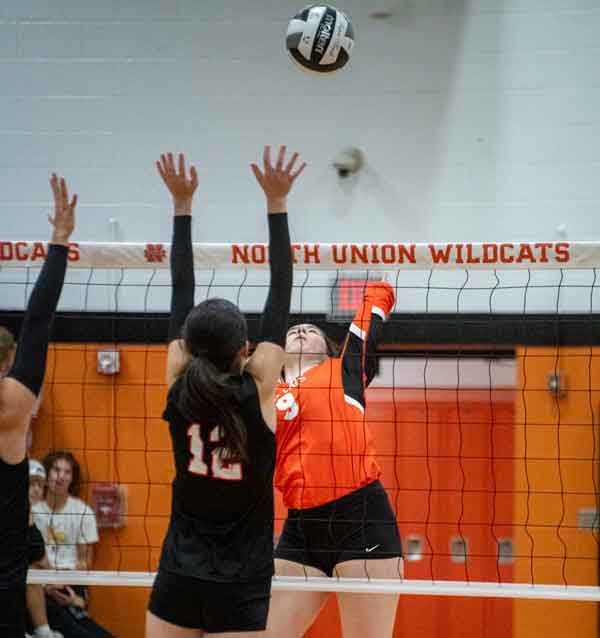 Lady Cat earns Player of the Month North Union senior Siena Ballinger leaps for a spike against Bellefontaine earlier this season. The Lady Cat was named an August player of the month in the Central Buckeye Conference for volleyball. Ballinger collected double digits in kills in two of the three matches the Lady Cats played in August, which were all victories. Ballinger totaled 13 kills against Tecumseh and 11 against London. She also had five blocks and five service aces during the month. (Gazette photo by Aleksei Pavloff)
Lady Cats come up short against Indian Lake
Not much went right for the North Union volleyball team on Tuesday in its Central Buckeye Conference match against Indian Lake at North Union.
The Lakers (6-1 overall, 2-0 CBC, had the upper hand throughout the match and defeated the Lady Cats (3-1, 0-1) in straight sets 25-19, 25-15, 25-15.
"We expected Indian Lake to do what it did, but we did not expect how we played," NU head coach Alexis Maenz said. "We know they are one of the top teams in the league and they stayed in control of the match more than we did."
North Union held the early edge in the first set and led 8-4 following a service ace by Kennedy Harrah.
But a kill by Indian Lake's Madison Brentlinger along with…
Read this entire article as it appeared in print in our eEdition