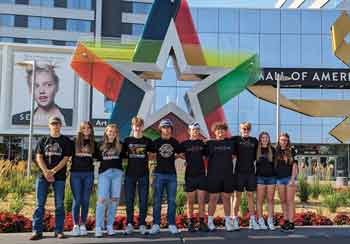 The North Union Robotics team competed in the Mall of America Signature Event this weekend. Team 6008C - C U finished qualifications undefeated with seven wins and one tie. The team ranked #6 out of 100 teams and ended with a quarterfinals match. They ranked 11th in Skills. They just missed eliminations. They were 36th in Skills. Above: Damien Dexter, Savannah Queen, Leah Matlack, Eric Snider, Jayhue Gabriel, RJ Hillyard, Brayden Campos, Jacob Weigand, Kinley Smith and Jaslon Miller.
NUHS Robotics kick off competition season
From Gazette staff reports
North Union High School robotics teams have officially kicked off the 2023-2024 competition season with a trip to the Experience STEAM Mall of America Signature Event in Bloomington, Minnesota. The competition featured 100 top-notch teams from all over the United States and Canada, including 23 teams who were defending state champions from last season, all there to compete in the new season VEX Robotics Challenge game, Over Under. This tournament is a magnet for the most skilled and talented VEX Robotics teams, not only because it is the first event of the season, but also because the venue in the north atrium of the Mall of America is a quite appealing place for a tournament.
North Union st…
Read this entire article as it appeared in print in our eEdition