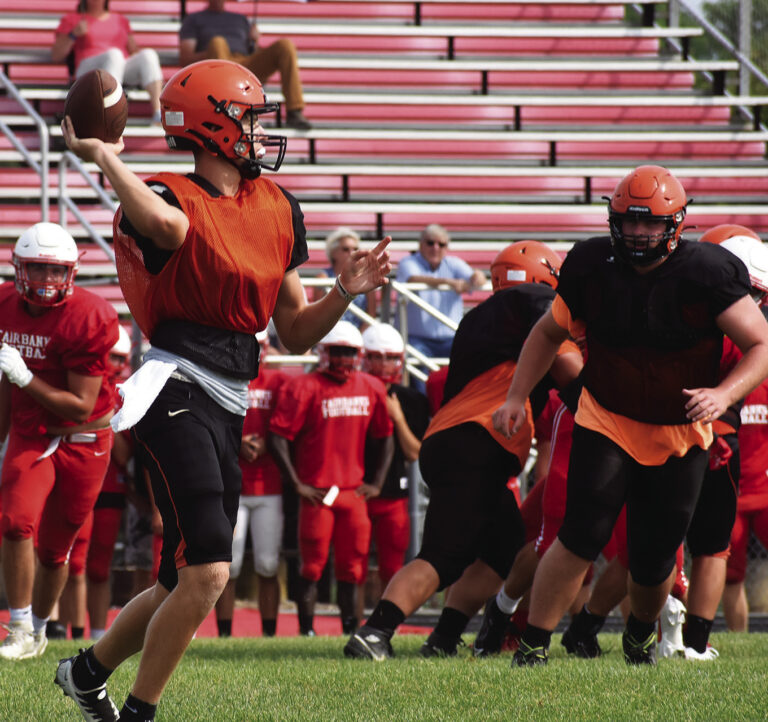 North Union quarterback Carter Skaggs (orange) eyes down a reciever during a preseason scrimmage against Fairbanks last weekend. The Wildcats will venture to Bellefontaine today for another preseason scrimmage starting at 7 p.m. (Gazette photo by Tim Miller)
North Union football sees positive moments in first preseason scrimmage against Fairbanks
The first preseason scrimmage of any football campaign can go a long way toward telling coaches where their team stands as the hot days of summer progress.
North Union head coach Nick Hajjar liked, for the most part, what he saw of the Wildcats when they scrimmaged at Fairbanks on Saturday morning.
For a couple of hours, NU and its Union County neighbor went through a controlled scrimmage where there was no tacking.
No time was kept on the scoreboard, but teams ran off 10 plays at a time.
Coaches were able to be on the field to correct mistakes and applaud their players as action occurred.
"Our one's (starters) are fine," said Hajjar. "We kept our offense…
Read this entire article as it appeared in print in our eEdition